Ladoo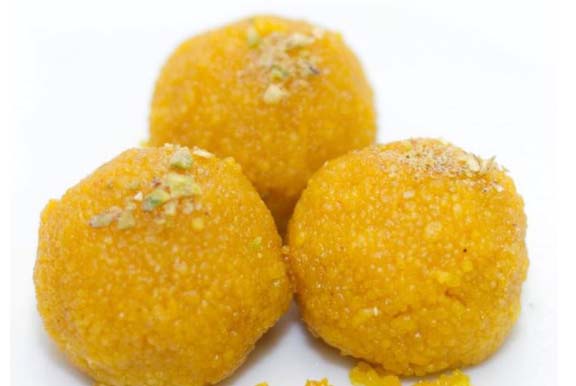 Ingredients
1 cup gram flour 4 cardamoms 3 cup sugar 4 cloves 1 tbsp raisins 1 tbsp candy sugar(misri) 1 tbsp fried cashewnuts ghee for deep frying
Procedure
Make a thick batter of the gram flour with water.
Make syrup of sugar with water.When one string consistency is obtained,remove from the fire.
Heat ghee for deep frying.Pass the gram flour batter through a seive with tiny holes, into the hot ghee.
Fry on a low flame till golden and crisp.Remove the boondis,drain and add to the sugar syrup.
Add the saffron dissolved in a little milk, crushed cardamoms, cloves, fried cashewnuts and raisins and the candy sugar to the boondi mixture. With greased palms, shape into laddus or balls.