BREAD BAJJIS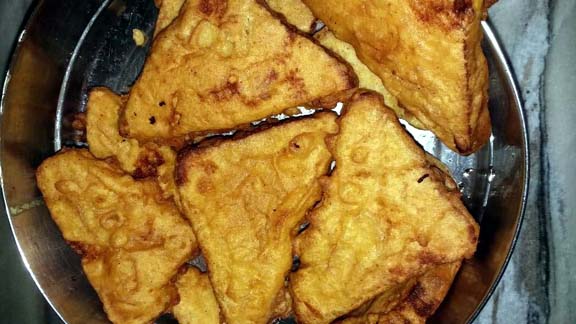 Ingredients :

Besan Flour ... 2 cups

Bread Slices ... cut into two Diagonally

Salt, Chilli powder ... as required for Taste

Ajwain ( powdered )...One tablespoon

Baking Soda ... A pinch

Preparation :

All ingredients except Bread, are thoroughly mixed.

A batter is prepared by adding water in little quantities.

Care is to be taken to see that the batter doesn't become loose and doesn't have lumps.

After oil is brought to heat on the stove, dip the triangle shaped Bread pieces in the Besan batter completely and put them in the oil.

Fry them to slight reddish colour on both sides and take them out.

These BREAD BAJJIS will taste good with ordinary chutney or tomato sauce.


C. K. VINAYA CHANDRA