Dusshera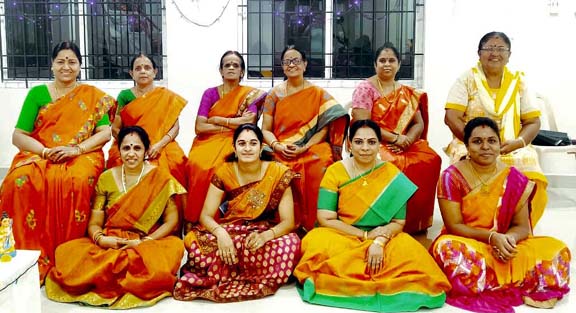 We are all geared up for the festive season and in a holiday mood. We portray our rich and varied culture and tradition, while celebrating these festivals Just a week ago we all bid farewell to Lord Ganesha, pleading him to return back next year, after offering Prayers to him for 10 Days, with Bhajans and devotional songs.

We are all now eager to celebrate DASERA, one of the most important festivals Which is celebrated in the ASHWAYUJA month in Hindu calendar,( it is mid -October in the Western calendar) in honor of The Mother Goddess in some parts. and as a celebration of LORD RAMA'S return from the exile after slaying the demon king RAVANA,The king of Lanka, in Northern India.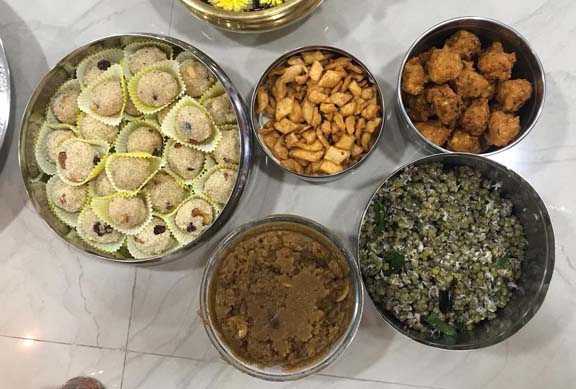 The word DASERA/DUSSHERA is derived from Sanskrit DASHA-HARA, meaning remover of bad or ill fate. VIJAYA DASHAMI, literally meaning victory on the tenth day and is celebration of triumphant Victory of Good over Evil, MAA GODDESS killed The mighty demon king, Mahishasur after a fierceful battle for 9 nights and days and was victorious on the tenth day in eradicating the evil power. Hence she is offered prayers for 9 NIGHTS AND DAYS and NAVRATRI precedes Dasera, this nine-day WORSHIP TO THE MOTHER GODDESS is observed with great devotion and each day is devoted to Maa Goddess in different form, which she assumed while killing Mahishasur.
The country all over is illuminated with rows of colourful lights and decorated with Flowers. Colourful Idol of DURGA MAA is installed in Temples and Pandals in every colony and worshipped with utmost devotion.
In South India, Maa is worshipped at homes, with Kalasha Sthapana with friends and relatives. The first 3 days of NAVRATRI is dedicated to Maa LAKSHMI,THE GODDESS OF WEALTH AND POWER, the next 3 days are devoted to MAA SARASWATHI, THE GODDESS OF ART AND WISDOM, and the last 3 days are dedicated in worshipping MAA DURGA, THE GODDESS OF SHAKTI. THE POWER WHICH DESTROYS OUR NEGATIVE TRAITS.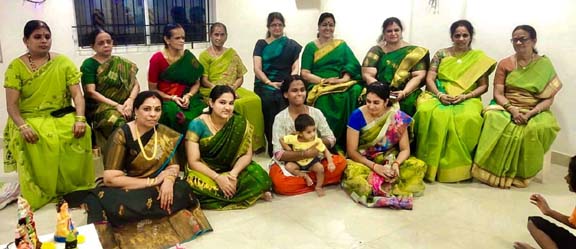 MAA needed tremendous power to slain THE DEMON KING, MAHISHASUR, Hence all the gods and goddesses transferred their power to MAA, and stood still like statues. During NAVRATRI, to honour these gods and goddesses,( for their sacrifice) Bomma kolu is arranged at home. Wooden Dolls, clay idols representing various gods and sages of Hindu tradition are artistically arranged in rows of 3, 5, 7 or 11 levels. It is an an exhibition of gods, dolls and art.
Sumangalis are invited to grace the occasion.Thambulam is offered to them along with gifts and sweets. Books are also placed in the PUJA PEDESTAL and worshipped, later distributed to children. Aksharabhyasam or vidyarambham is also performed, on THE DAY OF SARASWATI PUJA, It is a ceremony performed to introduce a child to the world of Education, AKSHARA means letters and ABHYAS means practice and is conducted in temples, where the child is made to sit on the father's lap and made to write OM the sacred words on a plate of raw rice amidst the chanting of shlokas. Musical instruments are also placed when SARASWATI PUJA is performed.
Down south A festival called BATHUKAMMA is performed during Navratri, it Commences on the Mahalya amavasya Night and concludes on DURGASHTAMI.
SEASONAL FLOWERS are decorated, by stacking them in layers of 7 around a conical frame, which resembles the gopuram of temple, on plates.
On the tip a conical shape of TURMERIC BLOCK, which represents Goddess BATHUKAMMA is installed and worshipped. Evenings, all the women gather in open land or in their yards, place their respective BATHUKAMMAS in the middle on Rangoli. They form circles and dance around it by singing folk- lores, later immerse them in water bodies.
It was believed that parvati was a lover of flowers, therefore the devotees arranged bathukamma to please her.
According to another legend when a Chola king named Dharmangada and his wife Satyavati lost their 100 sons in a battle, they pleaded GODDESSS LAKSHMI to be re born as their daughter and she obliged. When she took birth as the daughter of the couple, sages came and blessed her and named her as BATHUKAMA, which meant LIVE FOREVER.
In Northern parts, Dushera is performed in the honour of LORD RAMA.
RAM LILA, is the main attraction; Dramas and plays based on Ramayan are performed .during Navratri .in open air theatres. Huge wood effigies of ten-headed King Ravana, his brother KUMBKARAN and son MEGHNATH are burnt after dusk. Characters portraying the role of Rama and Lakshman shoot arrows of fire at these giant-sized effigies. The fire-crackers which are stuffed in the effigies explode with a blast, illuminating the vast open area, amidst loud cheering and merriment.
This season marks the on-set of the winter season, giving rise to infections and the burning of these effigies, which are filled with fire- works emit smoke which, helps in purifying the atmosphere and also demonstrates the defeat and destruction of the evil. AYUDHA PUJA OR ASTRA PUJA is an integral part of NAVRATRI. It is PERFORMED ON THE 9th day. It means WORSHIP OF WEAPONS.
According to legends, after MAA GODDESS destroyed Mahishasur, the weapons she used to slain the demon were stacked and worshipped by the devotees, which were instrumental in slaining the buffalo headed demon.
The tradition of worshipping weapons continued till date.
Vehicles are also washed and decorated with garlands and puja is performed Ayudha puja is very popular and is widely practiced by Business houses and shops. The tradition of breaking of pumpkins and placed on either side of the entrance, (Which is believed to ward off evil.) is followed.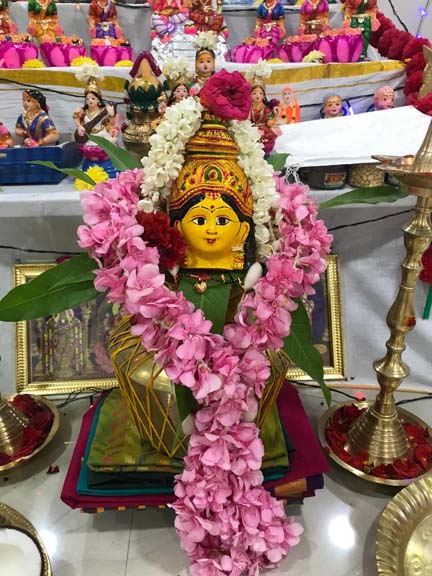 Machines in factories and workshops are also worshipped and are re used after the festival only, The machines are not used on the day of puja.
It is celebration all the way.At homes whatever tools and implements one uses in their livelihood are cleant and adorned with turmeric and kum kum and flowers They are placed in the altar and worshipped... TEMPLES perform Durga havan, JAGRAN is organized, all devotees stay awake and sing bhajans and offer prayers to the GODDESS.
Fairs are held adding a colourful flavour Dandiya a traditional folk dance of Vrindavan is performed in the honour of MAA DURGA. It is nick named as THE SWORD dance as it is an expression or staging a mock-fight between MAA and the demon. Each dancer has 2 DANDIYA sticks measuring 18" long which represent swords.
They whirl and dance in pairs to the rhythm of the dandiya folk-lore.
Women look enchanting in their MIRRORED GHAGR- CHOLI; men try to match them with their colourful KEDIAS AND TURBANS. The DANDIA programmes are organized and devotees perform GARBA, A DEVOTIONAL PERFORMANCE before AARTHI and later DANDIA is performed as a part of merriment.
DUSSHERA is celebrated on DASHAMI the 10th day, and is celebrated differently in various parts of the country. Shirdi SAI BABA had entered the state of Samadhi on the day of VIJAYA DASHAMI, hence SHIRDI celebrates Dusshera differently. Devotees throng SHIRDI to attend various programmes organized including the PALKI PROCESSION.
Dusshera concludes with the ritual of exchanging of SHAMMI/APTA LEAVES as a symbol of gold.
According to a legend, Kautsa a Brahmin lad who was the son of Devdutt, lived in the city of PAITHAN.After completing his education with the sage VARATANTU, Kautsa requested his guru to accept GURU dakshina, but the sage modestly refused, and assured Kautsa that he was content with his disciple's achievement and needed no dakshina for his imparting knowledge to him, since it would be inappropriate to accept gift for training and educating his student . But Kautsa was disappointed and insisted that his guru obliged to his request, as he felt it was his duty to gift his teacher.
The sage later relented to his request, and said"
"Kautsa If you insist on giving me GURU DAKSHINA, then you give me 140 million gold coins as GURU DAKSHINA, 10 MILLION COINS FOR EACH OF THE 14 SCIEINCES, I have taught you." Kautsa immediately went to the King, RAGHURAJ, who ruled PAITHAN, who was famous for his generosity, and narrated his guru's wish, and he pleaded the king for help.
The King, asked Kautsa to return after 3 days,as he had spent all the wealth he had, (on the Brahmins while performing the VISHWAJIT SACRIFICE) with the promise that he would help Kautsa.
King Raghuraja approached LORD INDRA and laid down his request, INDRA summoned KUBER,(God of WEALTH) and asked him to shower rain of gold coins all over the trees of APATI TREES around RAGHURAJA's City, AYODHYA. It was raining gold coins all over the trees and the king gave all the coins to KAUTSA.
Kautsa offered them to his guru as GURU DAKSHINA. The Guru was pleased but accepted only 140 million coins and returned the rest to his pupil.
Kautsa returned the remaining coins to the king, but the king refused to accept it as kings never took anything back, after donating. KAUTSA generously distributed all the remaining gold coins to the people of AYODHYA.This took place on the day of DUSSHERA In remembrance of this event the custom of exchanging the Apati leaves as gold, continued, while wishing each other on the day of DUSSHERA
On the day of Dusshera, The warrior idols of MAA goddess slaining THE DEMON, is taken out in a procession amidst BHAJANS, and immersed in water bodies .
Maa DURGA as PARVATI, THE CONSORT of LORD SHIVA REPRESENTS TWO FORMS OF ENERGY
1) protective, mild 2) destructive and fierceful,
Our beliefs could differ, our prayers could differ, but we all celebrate
DURGOTSAV, THE FESTIVAL OF MAA GODDESS, TO HONOUR HERFOR BATTLING FIERCEFULLY, SELFLESSLY WITH THE EVIL MAHISHASUR AND EMERGED VICTORIOUS. SHE FREED THE EARTH OF THE EVIL BURDEN . LET US ALL OWE TO BATTLE WITH OUR OWN EVIL TRAITS , and SACRIFICE ALL THE VICES OF GREED, ANGER, PRIDE,JEALOSY and become HUMBLE.
LET US ALL HONOUR MAA DURGA AND CELEBRATE NAVRATRI AND DUSSHERA AND SEEK HER BLESSINGS.
MATA RANI KI JAI!!