Ganesh chathurthi 2020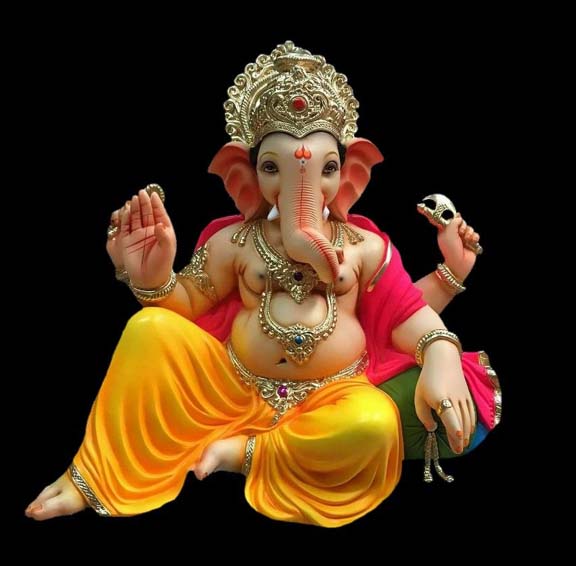 VAKRATUNDA MAHAKAAYA
SURYA KOTI SAMA PRABHA
NIR VIGHNAM KURU MEY DEVA
SARVA KARYESHU SARVADA

Once again it is time to welcome our FAVOURITE GOD GANESH JI to our home and Life. It is GANESH CHATHURTI.THE BIRTHDAY OF LORD GANESH,SON OF SHIV-PARVATI.

A strong belief prevails that on this day, the lord bestows his presence on Earth for all his devotees. He is the god of WISDOM AND PROSPERITY.

Prayers are offered to GANESH JI at the beginning of any new venture, big or small. Small turmeric moulds are formed and placed in betel leaves and worshipped

GANESH CHATHURTI is a festival held for 10 long days. It is celebrated in the month of Badrapada according to the HINDU CALENDAR, ON THE SHUKLA CHATHURTI(Fourth day of waxing moon period and ends on AnantaChaturdashi( fourteenth day of waxing moon period)

It is believed that Lord Ganesh was created by Goddess Parvati, out of sandalwood paste she used for her bath and breathed life into the figure. She went to the inner chambers for the bathing rituals while she ordered him to guard the entrance of her chamber and not let anyone in. Abiding by his mother's instructions, Ganesh ji dutifully stood

Guarding the chamber. When Lord shiva approached the chamber he was denied entry by the little guard Ganesh.

Shiva ignorant about the child's creation failed to recognize him. he was furious to be obstructed by the little boy. Unable to control his fury Lord Shiva just severed the hesd of the little Ganesha. On hearing the commotion outside, Goddess Parvati arrived at the entrance and was shell shocked to see her son lying life less. She was enraged and assumed the form of ADI SHAKTI and vowed to destroy the universe where her son was killed and recreate a better one. Lord Shiva was equally disturbed to see his consort Parvati in agony. He promised to Parvati that her son will live and he started hunting for a living being. He came across an elephant crying for her dead baby elephant. He consoled the mother elephant and fixed the head of the baby elephant in place of Ganesh's Head. And he named him as GANESHA. PARVATI was extremely pleased to get back her son. Ganesh ji was her favourite amongst her two sons. He was a simpleton but extremely Dutiful.

He is known by various names : GANESH, GANAPATHI, GAJARAJ, VINAYAKA, VIGNA –HARTA, ( OBSTACLE-AVERTER) He is worshipped as BHAKTI-GANAPATI, SHAKTI-GANAPATI, LAKSHMI-GANAPATHI and MAHA GANAPATI.

Almost Six months before the festival clay models of LORD GANESHA are designed by skilled artists. Beautifully painted With bright hues, he breathes life and is ready to be installed at home, temples and around every corner in the temporary Structures.

Contributions are made as donations, chandas to the devotees who collect monetory contributions.

On Vinayak chaturti, Organizers purchase the best idol of the Lord and install in the pandal in their society, temple and home amongst loud chantings SRI GANESH MAHARAJ KI JAI.The structures are brightly illuminated with colourful Lights, and are also decorated with flower thorans.

Loud speakers sending waves of blaring music and bajans creates a great atmosphere. Every home, street is decorated like a bride for 10days.

Ganesh ji's presence fills joy in every devotee's life who seeks his blessings. He is the SIDDHIDATA- THE GIVER OF SUCCESS. He broke one of his tusk, when his feather-pen broke while Transcribing the great MAHABHARATA, dictated by the sage Vyasa. He came to be known as EKA DANTA.

Once,when he was invited to a feast, Ganesh ji consumed large amount of sweets, as he was fond of the MODAK (COCONUT AND JAGGERY STUFFING STEAMED IN RICE FLOUR MOULDS). It was night time and suddenly his stomach was burst open due to the heavy food and he instantly tied it with a snake.

Luckily no one saw this incident. But the moon was Watching from above and he burst out with laughter. Ganesh ji was angered with the behavior of the moon, he cursed that the MOON SHOULD BE INVISIBLE FROM THAT VERY MOMENT. Moon was ashamed of his own action and pleaded with GANESH JI to forgive him. realizing that he was too harsh on moon, GANESH JI softened. But could not Withdraw his curse, he wanted to lessen the intensity of the curse. So he proclaimed that the moon will wax and wane and will be invisible on just one day in a month- AMAVASYA. Till date AMAVASYA is considered inauspicious.

The moon will be in full form on POURNAMI, everyone can offer prayers on that day.

Another anecdote reflects on Ganesha's wisdim, one day Shiva decided that whoever amongst his two sons, Ganesh and Kartikeya made a tour of the world and returned first to the starting point would be considered the wisest and would be rewarded with a fruit(mango) Immediately Murugan set of on his vehicle the Peacock to tour the world. GANESHA just thought for a moment and with folded hands went three times around his divine parents and claimed for his reward.

Meanwhile Kartikeya returned back after touring miles and miles, crossing vast Land and oceans. There was a dispute and confusion again about who was the claimant of the reward.

Lord Shiva pleadingly said, "Beloved Ganesha, you did not tour the world, so how can I give you the reward. You did not Fulfill the requirement of the competition?"

To which LITTLE GANESHA instantly replied : I have gone around my divine Parents –SHIV-PARVATI, WHO REPRESENT THE ENTIRE UNIVERSE. IT IS AS GOOD AS THE TOUR OF THE WORLD.

THAT SETTLED THE DISPUTE AND HE WAS OFFERED THE MANGO AS A MARK OF HIS VICTORY. KARTIKEYA was displeased and felt the decision was unfair and he went away leaving KAILASH to PAZHANI MALAI (hills).HIS PARENTS RUSHED TO PAZHANI AND PACIFIED THEIR SON KARTIKEYA THAT HE WAS HIMSELF A GNANA PAZHAM fruit OF WISDOM.

GANESHJI is offered prayers every day for the 10 days he is amidst us. celebrations vary in nature. Some organizers arrange only for Bhajans, while some indulge in GAMES, PLAYS/DRAMAS and all types of music, or just ARTI.

Competitions are held for children and women folk to exhibit their talent by singing,sports and Dancing, Making exemplary Rangolis respectively and winning prizes. Prasad is made in abundance by devotees in turns and are offered to GANESH JI.

Invitations are exchanged to have Darshan of their Ganesh at home. These 10 days are totally dedicated to him and he is offered prayers in different forms. Some devotees offer books, and donation to the needy children to aid them in their education, at home books are placed in the puja room, to seek his blessings as he is the LORD OF WISDOM.

Some organizers Film movies by ordering projectors and provide entertainment for 10days to all the devotees. Anna danam program ( free food is offered in charity) is conducted on the last day of the festival.

Huge quantities of Food is cooked and served to all, the needy and the rich as his prasadam. The final stage of this festival is the IMMERSION CEREMONY( VISARJAN) (NIMMAJANAM).

DEVOTEES generally immerse the idol of the lord on odd numbered days viz. the 3rd, 5th, 7th, 9th and the 11th day. But on the 11th day all the GANESH IDOLS are immersed in the sea, rivers or other water bodies. The idols are placed in huge decorated trucks, vans, carriers and the procession heads towards the water bodies amidst great bhajans and loud cheering: GANAPATI BAPPA MORIYA PURUSHA VARSHI LAUKARIYA. Meaning: "VICTORY TO LORD GANESH, COME BACK TO US NEXT YEAR"

WE ALL RELUCTANTLY BID FAREWELL TO THE LORD BUT WITH A PROMISE TO COME BACK TO US NEXT YEAR .

WE SEEK HIS BLESSINGS BEFORE HIS DEPARTURE AND ALSO PRAY TO HIM TO ERADICATE ALL THE OBSTACLES IN OUR LIFE AND BLESS US WITH WISDOM AND PROSPERITY.

GANESH MAHARAJ KI JAI!