DUBAI TAMIL STUDENT SELECTED AS SPECIAL CORRESPONDENT FOR SWITZ RADIO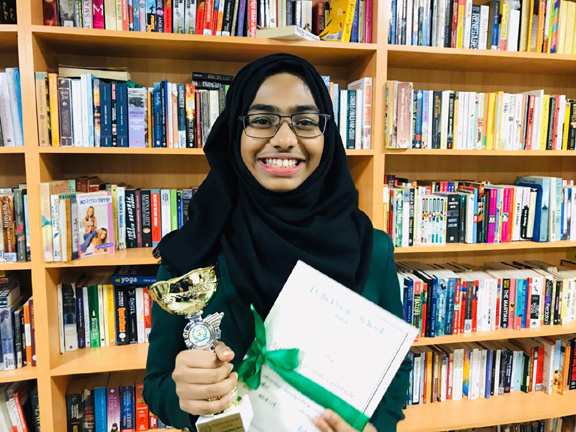 Thasneem Abuthahir, a Tamil student in Dubai, has been selected as a special reporter and will be a member of the Special Media Department of Radio Chico, which operates from Switzerland. This 17-year-old student from Delhi private school, Dubai has created masterpieces with her brushes. She also finds love while creating awareness about world peace, global warming, climate change crisis and tolerance through her works.

Originally from Ilayangudi, Sivagangai district, her father Mr. Syed Abuthahir operates a Dubai based business firm. Thasneem is forever grateful to her parents and two sisters who have consistently supported her in her mission to create awareness on global issues.

Her works has been internationally awarded and acknowledged by various organizations and personalities - notable among them is the securing of a 2nd place in the international peace pals competition where she depicted how peaceful our world would look without war and violence.

Inspired by her artwork on the theme 'living peace,' Ms. Anne Marie of Radio Chico contacted Thasneem to extend her appreciation. In addition to this, upon noting Thasneem's talent and as an act of encouragement, Ms. Anne Marie offered Thasneem to be a part of RadioChico Switzerland. Radio Chico Switzerland, is a school and generational radio for the youth, that works for a global cause. She has been selected to participate in categories such as global warming, earth peace, student development, intellectual life, child ideology and social development. Dissemination of paintings and news into newspapers while in Dubai (broadcasting) is also an ongoing development. Thasneem's motto of highlighting awareness on such issues has continued to garner a positive approach both within and outside her place of stay.

During the exhibition in Switzerland UAE Embassy Charge d'affiars toSwitzerland H.E. Ahmed Bin Nasser Al Nuaimi has visited and congratulated her. He also expressed that she brought her art of our UAE leaders. Emaar Vice Chairman His excellency Jamal Majid Bin Thaniah also congratulated her for her great work.

Muduvai Hidayath