Emirates Environmental Group celebrates World Environment Day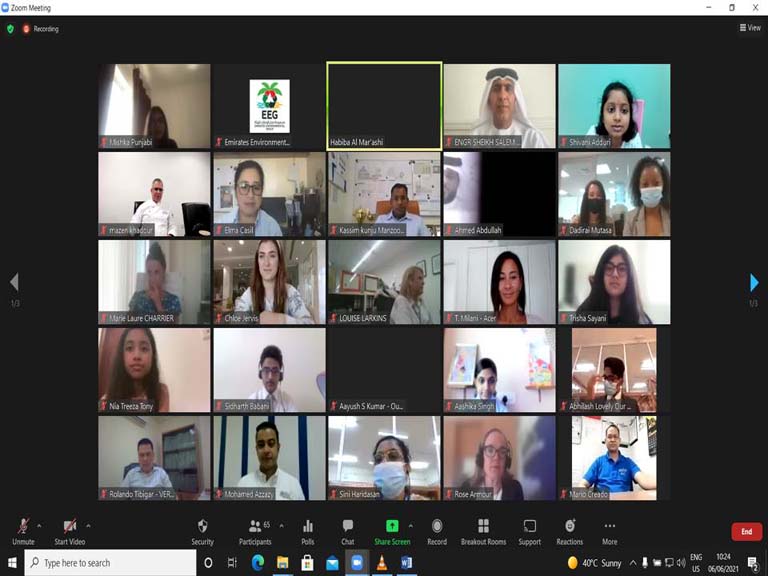 6th June 2021. Dubai, United Arab Emirates: The Emirates Environmental Group commemoratedthe green heroes of recycling and sustainability in the UAE during the virtual ceremony organised on the occasion of World Environment Day under the kind patronage and presence of H.E. Eng. Sheikh Salem Bin Sultan Bin Saqr Al Qassimi, Member of the Executive Council of the Government of Ras Al-Khaimah and Chairman of the Department of Civil Aviation and Honorary Member of EEG.

H.E. gave a welcoming speech at the virtual event where he said"I am very delighted to be amongst the champions and true heroes who have continued to do their part in spite of the challenges that we faced and the restrictions on movements that were implied last year and continue to some extent. EEG's success is everybody's success. While EEG provides an apt platform for the community to fulfill their obligation towards the Environment, it relies on the community's active participation to be able to implement its programmes. I will therefore urge you to continue your participation and be an influence to the ones around you to take part in EEG's initiatives and programmes. I call on and encourage you to use the #GenerationRestoration on your social media channels to rally the cause of EEG as we come "Together for a better Environment"

In her opening speech, Mrs. Habiba Al Mar'ashi, Chairperson and co-founder of EEG reflected on the World Environment Day celebrations organised this year under the theme "Reimagine. Recreate. Restore"with a special focus on creating a good relationship with nature to inducegreen jobs, support nature-based solutions to fight climate change, and promote biodiversity conservation.This year, we're starting from the ground up. We can't go back in time to when the world was a greener place, but what we can do is reduce our consumption of resources, plant native trees, clean our oceans and seas, and make peace with nature that fuels our everyday lives.

Emirates Environmental Group recognises the achievements and the talents, struggles and commitment to excellence in the communities. It has established a gold standard for environmental conscious people and organisations across the UAE and fostered environmental awareness and action with awards for the winners through the series of Emirates Recycling Awards. Nearly 200schools and up to 690 companies participated in Emirates Environmental Group's numerous waste management campaigns in 2020. This accomplishment calls for the recognition of the environmental activists who voluntarily joined the EEG waste management initiatives and worked hard throughout the year to bring outstanding results.

The winners of the six recycling campaigns were divided into three categories: Corporate, Academic and Individual.

1) For Paper the winners were Delhi Private School Sharjah (Academic), Nia Treeza Tony (Individual), and UAE Exchange Al Sajaa (Corporate). 2) For Plastic, the winners were Ajman School for Secondary Education (Academic), Nia Treeza Tony (Individual), and Abela & Co Jebel Ali (Corporate). 3) For Cans, the winners were New York University Saadiyat Island Abu Dhabi (Academic), Trisha Nikhilkumar Sayani (Individual), and Emirates Flight Catering (Corporate). 4) For Mobiles, the winners were Our Own High School, Al Warqaa (Academic), Shivani Adduri (Individual), and Dubai Public Prosecution (Corporate) 5) For Glass, the winners were New York University Saadiyat Island Abu Dhabi (Academic), Aashika Singh (Individual), and Two Seasons Hotel& Apartments (Corporate). 6) For Toners, the winners were Mishka Punjabi (Individual) and Sharjah Electricity & Water Authority (Corporate).

Indeed, the results of the EEG waste management programmes arestrong and durable, even during these trying times. Over the years, EEG has produced programmes for education and awareness, resource conservation and public events. EEG works with schools to develop eco-warriors and cooperates with companies to establish a pool of advocates for the environment and establish sustainability and CSR departments.

Mrs. Al Mar'ashi said: "The sustainable future of the UAE is so vivid, and this is all thanks to the wise leadership of the country and our Eco-Champions. EEG thanks the committed members of the society for joining EEG and putting their hands together to continue efforts in preserving our ecosystems, ensuring proper waste management in the UAE, contributing to a greener and more sustainable way of life and raising awareness about the environmental issues within our society." EEG has greatly fostered recycling market growth at the national level through its recycling schemes.

EEG has established an excellent waste management system and a broad education& awareness programme since it was established in 1991. EEGis accredited with the UNCCD & UNEP, Member of UNGC, IUCN, the One Planet Network under programme of Sustainable Food System (SFS) and Global Partnership on Marine Litter (GPML) and plays an active role in them. It has successfully implemented several Sustainable Development Goals of the United Nations in the region via its initiatives, particularly Objective No: 4, 11, 12, 13, 15 & 17 which include, 'Quality Education for All' 'Sustainable Cities and Communities,' 'Sustainable Consumption and Production,', 'Climate Action' and 'Life on Land' and 'effective Partnerships' respectively.

The sponsors and supporters were appreciated for their contribution to the successful contribution to the event.

The silver sponsors for the event were:

• McDonalds UAE • Etihad Airways • Acer • Epson Supporting sponsors were:

ITL Cosmos, Brother International, Nikai, Almarai, Dabur Unilever, Nestle, Delmonte, L'Oreal, Dubai Parks & Resorts, Wild Wadi

Since the inception of EEG, until the end of 2020 it have successfully diverted

1. More than 19,250,735 Kg of paper, 2. More than 342,559Kg of Aluminum Cans, 3. More than 64,104of pieces of mobile phones, 4. Almost 1,169,061Kg of plastic, 5. More than 2,476,059Kg of glass and 6. More than 105,754pieces of printer toner

EEG's efforts have also led to the

1. Mitigation of 82,349 MT of CO2 emissions or in other words. 2. Preservation of 125,057 m3 of landfill space. 3. Conservation of 379,892 treesfrom being felled.