EEG conducts 21st Inter College Environmental Public Speaking Competition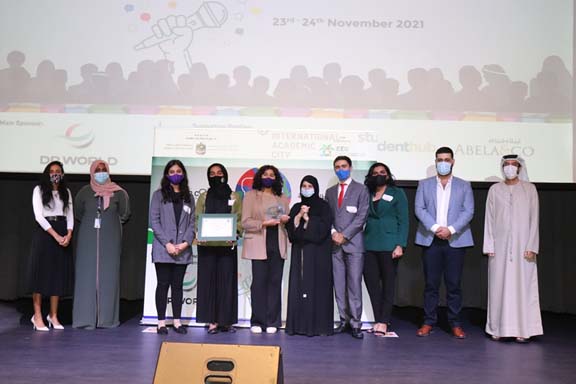 EEG continues its pursuit of Education for Sustainable Development by organising and conducting meaningful programmes for the Youth of the Region. It concluded on the 24th of November the 21st cycle of the Inter College Environmental Public Speaking Competition (ICEPSC). The two-day competition was held at the Dubai Knowelge Park under the prestigious patronage of the Ministry of Education of the United Arab Emirates.

This bilingual (Arabic/English) competition is held every year to bring together students from across the region, to voice their views on 4 different environmental topics that are important to be discussed and deliberated upon to be able to come up with constructive solutions. Through this platform, excited students are encouraged to analyse the topic and share their research using their scientific backgrounds and unique perspectives.This year, 73 participating teams competed for the coveted rolling trophy under the following topics:

• Sustainable Living: A Path for a Greener Future? • Environment and Education: Need for Change. • Balancing the Three Pillars of Sustainability in a Post Pandemic World. • Integrating Environment & Technology: A Solution to Sutainability?

"I am amazed by the level of integrity and reasoning of the students today. The research,thought-provoking critical statements, theirvoiced concerns andcreativesolutions that they bring to the stage are all very valuable inputs that need to be implemented for a faster change towards a sustainable future. This level of confidence and leadership skills is initself a great achievement. I am very hopeful that the next generation of scientist, leaders and citizens, who are conscious of the environmental challenges; will bringforth a new wave of innovations that will help chapethe world to the betterment of humans, the ecosystems and the biosphere." said Habiba Al Mar'ashi, Chairperon of EEG.

Nabil Qayed, Director of People & General Administration, People Department, DP World UAE, said: "Partnering with EEG is a great opportunity for us at DP World as we are working towards the common goal of environmental sustainability. Our organisation has been guided by the 'Our World, Our Future' sustainability strategy that prioritises people and the planet. As part of this, education is a legacy area. In alignment with these principles, our several endeavours and the UAE's Sustainability Initiatives, the environment and the national youth have always been significant to creating a better future.

Steering young minds in the right direction when it comes to creating a sustainable future for the country and the world at large is integral. By supporting the Inter-College Environmental Public Speaking Competition, we are confident that we can achieve this, thus establishing an environmentally conscious generation that can bring about positive change in society."

Coinciding with Expo 2020, EEG held a special edition whereby it opened the platform for colleges/universities outside the Arab Region. Thereby, witnessing an increase in participation, with university students coming from Europe and Central Asia as well.

To ensure that no voice is left behind due to travel restrictions as a result of the pandemic, the event was conducted in a hybrid format. The teams were allowed to participate virtually or in person. This successfully enabled teams from 10 different countries to participate and compete virtually.

To score the students fairly, EEG assembled together a jury of four bilingual experts, who are active in the field.

• Dr. RashedKarkain – Founder of RashedKarkain Research & Training Institute, Associate at Hamdan bin Mohammed Smart University, Lecturer at Canadian University of Dubai and Zayed University • Ms. Hana Dalmar - Manager Renewable Energy and Environmental Projects at DP World • Mr. MajdNaim Fayyad – Senior Advisor at Royal Danish Consulate General Dubai. • Ms. ZeinaAlHashmi - SeniorSustainability Specialist at Adnoc

Mrs. Mar'ashi expressed satisfaction in her opening address, saying "It is always a privilege to work in partnerships with various entities to bring about successful programmes. It is only through collaborations and cooperations that progrees can be made towardsachieving environmental sustainability goals. We are very glad to receive the support from DP World, who came on board as the main sponsor for this unique environmental educational programme.

Additionally, to receive a patronage from the Ministry of Education is an epitome of the level of prestige with which this competition is held. We are very grateful that Dubai International Academic City has again graciously provided us with a venue to conduct this competition, our appreciation is extended to our long time partner and EEG Corporate Member, Abela & Co for providing the catering for this event."

Mrs. Mar'ashi further added that: "The youth of today have exceptional potential to become environmental stewards and future leaders in sustainability. Educational programmes are one of the most important areas of work at EEG. We strive to empower the youth and build their capacity for research, leadership and networking; the few vital qualities that are required to make a lasting impact on the world"

The winners of the 21st Inter College Environmental Public Speaking competition are: Winners

Topic 1: Sustainable Living: A path for a Green Future? Manipal Academy of Higher Education - Dubai Topic 2: Environment and Education: Need for Change New York University - Abu Dhabi Topic 3: Balancing the Three Pillars of Sustainability in a Post Pandemic World University Of Sharjah - Sharjah Topic 4: Integrating Environment & Technology: A Solution to Sustainability? Princess Nora Bint AbdulRahman University, Saudi Arabia

The coveted rolling trophy went toUniversity Of Sharjah, who scored the highest points.