The Emirates Environmental Group accolodes the Green Heroes of UAE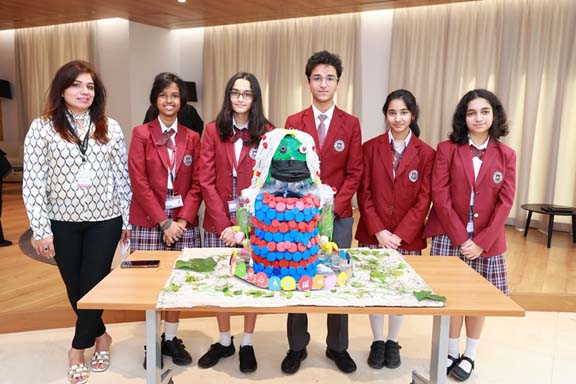 (Dubai): Emirates Environmental Group commemorated the green heroes of recycling and sustainability in the UAE through the 25thedition of the "Emirates Recycling Awards" organised on the occasion of World Environment Day on 6thJune 2022 at the Dubai Knowledge Park. The unique event was held under the patronage of H.H. Engr. Sheikh Salem Bin Sultan Bin Saqr Al-Qasimi, member of the Executive Council of the Government of Ras Al-Khaimah and Chairman of the Department of Civil Aviation – Ras Al Khaimah.

Through the waste management and recycling programme,EEG's main focus of providing an alternate to landfilling domestic solid waste is fulfilled. EEG have also been supporting the local recycling industry for more than two decades; assisting them in successfully recycling and increasing their capacity. EEG promotes the culture of re-using waste materials also to help reduce the environmental and carbon footprint of the country.

EEG established recycling initiatives in the year 1997 around the time time when the concept of recycling was not yet established in the UAE. Since the inception of these programmes it has successfully managed to divert:

- 1,319,611 Kg of Plastic - 20,610,746 Kg of Paper - 360,875 Kg of Aluminium Cans - 2,582,021 Kg of Glass bottles - 110,701 Pieces of Toner Catridges - 11,455 Kg of E-Waste - 72,105 Pieces of Mobile Phones - 807 Kg of Scrap Metal

EEG's efforts have transpired in the following:

- Reduction of 88,170 MT CO2 - Saving of 627,617 Million BTU of Energy - Saving of 136,460 m3 of Landfill Space - Saving of 409,581 trees from being felled - Saving of 289,222 Gallons of Gasoline

The Ceremony awarded corporate entities, academic institutions and families, who were the top collectors in 8 categories, for the following recyclable materials : Aluminium Cans, Plastic, Paper, Glass, Toner Cartridges, Mobile Phones, E-Waste andScrap Metal.

H.H. Engr. Sheikh Salem Bin Sultan bin Saqr Al-Qasimi - Chairman Department of Civil Aviation RasAlkhaimah Member of Executive council stated "As the climate crisis deepens, I commend Emirates Environmental Group and its campaigns that are oriented for climate action. These programmes are focused to mobilise communities from different backgrounds and bring them under one umbrella that aligns with the UAE's Climate Action policy. Emirates Recycling Awards are one-of-a kind celebration in the UAE that acknowledges the efforts of the top contributors in reducing the carbon emissions thus supporting the transition towards Net Zero. The commitment of these communities will go thousand folds in our efforts to serve the environment and help us accomplish our mission of a Sustainable Future."

Welcoming the academic institutions, corporate organisations and other honorary guests, Mrs. Habiba Al Mar'ashi, EEG Co-Founder and Chairperson stated "Natural resources are being depleted & landfills are being filled at an alarming rate. Our current system of 'Take-Make-Use-Dispose', is highly unsustainable and it requires a complete reassessment of our waste disposal habits. Nearly 80% of household waste is made up of recyclable or organic materials like paper, plastic, aluminium, metal, glass and food waste. These wastes when recycled shall save significant amount of energy and reduce the mining of raw materials and emissions of harmful pollutants."

She further added "EEG annually recognises the unfaltering efforts of Eco conscious academic institutions, organisations and individuals who have participated in its recycling campaigns. Year on year, EEG uses the platform of Emirates Recycling Awards to spread the message of environmental responsibility and brings to light the champions whose commendable efforts have not just made the programmes successful, but have made a big difference in the field of environmental sustainability."

Mrs. Habiba expressed her gratitude towards the commitment of the supporting entities as well;that included the Dubai Knwoledge Park for hosting the event. The silver sponsors:McDonalds UAE, Tristar, ACER, The Body Shop UAE and the in kind support sponsors: Air Arabia, Loreal, Wild Wadi, Dabur, Almarai, Atyab Al Marshoud, Thalgo, Tetrapack, Brother International, Pizza Express, ITL Cosmos, Nikai, EMAX Electronics and Dubai Aquarium and Underwater Zoo as well as a selection of hotels from all over UAE who presented various vouchers to host the winners in their hotels.

The winners of EEG's Emirates Recycling Awardswere:

1) For Aluminium Cans, the winners were New York University Saadiyat Island Abu Dhabi (Academic), Mark Monteiro (Individual/Family), Canpack Middle East One Person LLC (Corporate) 2) For Paper, the winners were Latifa School For Girls (Academic), NiaTreeza Tony (Individual/Family), AG Engineering Dubai (Corporate) 3) For Plastic, the winners were Our Own High School - Dubai (Academic), NiaTreeza Tony (Individual/Family), Abela & Co Al Aweer (Corporate) 4) For Toners, the winners were Shahd Hassan Al Suwaidan (Individual/Family), Sharjah Electricity, Gas & Water Authority (Corporate) 5) For Glass, the winners were New York University Saadiyat Island Abu Dhabi (Academic), Aashika Singh (Individual/Family), TajWastemanagement LLC (Corporate) 6) For Mobile, the winners were Our Own High School, Dubai (Academic), ShivaniAdduri (Individual/Family), Dubai Public Prosecution (Corporate) 7) For E-waste, the winners were MananNileshChandak (Individual/Family), Danube Home (Corporate) 8) For Scrap Metal, the winners were Shafeeka Jamal (Individual/Family), McDonalds UAE (Corporate)

In EEG's continuous effort to minimise the environmental impact of its activities, 5.90 metric tonnes of C02 emissions produced as a result of organising thisprogramme were offset, by making a sustainable contribution to voluntary climate protection, in collaboration with EEG's devoted corporate member, Farnek.

The Emirates Recycling Awards' platform is very crucial for the success of EEG's waste management and recycling programmes and goes a long way in driving performance among the participants in these impactful campaigns thereby contributing directly in the mitigation of CO2 emissions of the UAE.