9th Sharjah International Library Conference enriches learning of regional and global industry professionals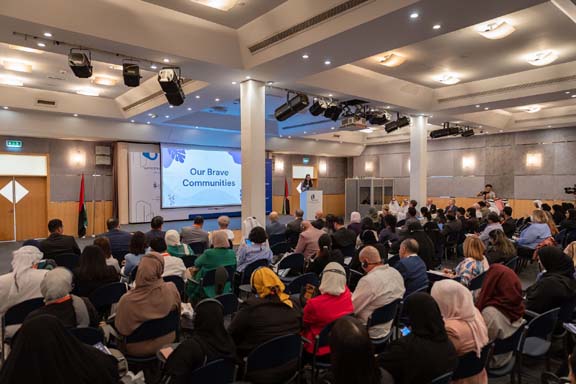 Sharjah, November 09, 2022

The shared commitment to build communities by advancing libraries through exchange of ideas and expertise was reinforced at the 9th Sharjah International Library Conference (SILC), which opened today on the sidelines of the 41st Sharjah International Book Fair (SIBF) at Expo Centre Sharjah with the participation of more than 250 library and information professionals. Organised by the Sharjah Book Authority (SBA) in collaboration with the American Library Association (ALA), the two-day annual conference is fostering the professional excellence of participants through insightful discussions on new trends and technologies while also exploring ways for closer collaboration to support new age learning and shape creative and innovative societies.

Foundations of a knowledge society

Welcoming guests and participants at the start of the two-day conference, HE Ahmed bin Rakkad Al Ameri, Chairman of SBA, said that Sharjah took its initial steps in laying the foundations of a knowledge-based society in the emirate with the opening of its first library as early as 1925. The SBA Chairman said: "Libraries are a source of learning and motivate people to make a difference in societies. It helps enhance the skill of reading and also ensures that knowledgeable content is accessible to all. " Acknowledging the multiple challenges faced by libraries worldwide during the pandemic, Al Ameri said: "We have gone through immense challenges during the Covid-19 pandemic and this gathering will serve as a platform for experts to exchange their expertise in braving these hurdles and also developing libraries of the future." The SBA Chairman also thanked the American Library Association (ALA) for its continuous support in advancing the sector.

Inclusive culture

In her keynote address, ALA President Lessa Kanani'opua Pelayo-Lozada, expressed her delight at the community-centric approach taken by Sharjah, particularly within the library industry. She said: "I am an American coming from a mixed descent and for me, this sense of inclusion has great value. Sharjah has ensured that all patrons of society are part of its knowledge culture, including outsiders like me. It was wonderful to learn about the different initiatives of library users at the House of Wisdom and various branches of Sharjah Public Libraries." In her address titled 'Taking the Lead: Indispensable Librarians', the ALA President said: "I call myself a servant leader, and for me, leadership is about collaborating with colleagues, supporting, and being passionate to produce an outcome that is beneficial for the community and society at large." Pelayo-Lozada said that brave communities are the focus of her presidential tenure at the ALA. "It takes courage to plunge into risks, speak up and alleviate the community. It is not easy to address your inner self and come forward to become the leader within. I was uniquely positioned to take a non-traditional route to becoming a leader," she added. "Libraries act as information hubs for those seeking to excel in life," said Pelayo-Lozada, adding that it is hard for the youth to imagine possibilities when they are not aware of their options.

Professional development

The two-day conference hosted enriching learning sessions focused on the reading culture and the role of libraries across three venues at Expo Centre Sharjah — Intellectual Hall, Forum 2 and Forum 4. An international roster of experts led discussions and presentations on the opening day of the conference. Stacie Ledden, Director of Strategic Partnerships, Anythink, Adams County, Colorado, USA, spoke of 'Finding Joy: Library as Space for Playful Learning and Creativity' as she explored ways to instill joy amongst readers as they return to libraries. Dr. Sam Northern, Library Media Specialist at the Simpson Elementary School in Kentucky, USA, explored critical thinking and problem solving benefits of 'Gamification and Game-Based Learning' while Fa'izah Ahmad and Grace Sim - both representing the National Library Board of Singapore, shared their experiences of making a difference for the young and old in a session titled, 'Raising Readers for Life and Services Supporting Seniors: Programing for Patron Stages of Life'.

'Student-Created Media: Designing Research, Learning, and Skill-Building Experiences' was presented by Scott Spicer, Media Outreach Librarian, University of Minnesota; Abdullah Al-Hinai, Director of the Medical Library, Sultan Qaboos University, Oman, discussed 'Key Role of Libraries in Infodemic Management'; and Sarah Mahmoud EL- Daly, Head of Libraries Department, Mansoura College International Language Schools, Egypt, spoke of 'Connecting with the Hard-to-Reach Upper Grade Students: Challenges and Success Stories. 'Academic Libraries and Student Workers as Success Agents' was spotlighted by American University Sharjah's Latifa Baali, Public Services Librarian, and Alanna Ross, Associate University Librarian for Public Services. The 9th Sharjah International Library Conference will continue its educational programming tomorrow and offer visionary insights into the reality of academic libraries in post-knowledge societies, impact of the pandemic on library operations, and explore themes of sustainability, amongst others. Conference participants will also have the opportunity for one-on-one and group discussions with experts on the key issues and challenges facing libraries.