Utico in green energy push: signs MoU with Yellow Door Energy for solar plant in Umm Al Quwain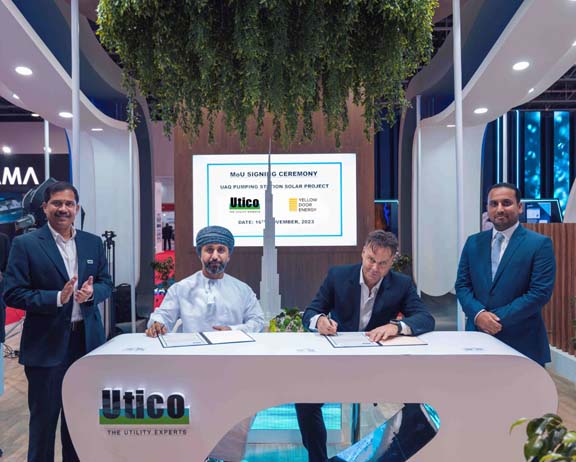 Ras Al Khaimah/Dubai, UAE, November 20, 2023: The UAE's only private utility provider, Utico, today announced taking one more significant step in its strategic green initiatives by partnering with leading sustainable energy developer, Yellow Door Energy (YDE), to develop a first-of-its-kind solar plant in Umm Al Quwain in the Northern Emirates.

In a joint statement at an MoU signing ceremony at the recently concluded 25th Water, Energy, Technology, and Environment (WETEX) and Dubai Solar Show (DSS) exhibition, Utico and YDE said the solar plant and battery energy storage system (BESS) will generate 4,700 megawatt-hours of clean energy annually.

"For Utico, this is a significant step in our journey towards being carbon neutral and support the UAE's strategic goals of sustainability and Net Zero by 2050 target. The project, a first in the Umm Al Quwain, will help Utico enhance diversification of its energy mix for utilization in our operations," said Hussain Al Lawati, Group CEO, Utico.

Significantly, the Utico-YDE solar plant will remove 82,000 metric tons of CO2e from the environmentduring the system lifetime, complementing the carbon-neutral strategy of the UAE and global climate change mitigation endeavors.

Rory McCarthy, Chief Operating Officer of Yellow Door Energy, said: "As the leading sustainable energy partner for businesses in the region, Yellow Door Energy is honored to support Utico on its sustainability journey. The solar and battery energy storage system (BESS) project showcases our company's commitment to helping businesses decarbonize their operations, save money and become more resilient. Ahead of COP28 and in line with the UAE Net Zero by 2050 target, we are proud to be here today to congratulate Utico and its leadership on this important sustainability milestone."

As the project developer, Yellow Door Energy is responsible for financing, designing, building, commissioning, operating and maintaining the solar plant and the hybrid system integration.

The solar power plant announcement comes close on the heels of Utico partnering with Shandong Tianyi Chemical Corporation of China for a pathbreaking circular economy project to extract industrial chemicals from brine, a first of its kind in the GCC in recycling waste seawater from desalination plants.

The hybrid Umm Al Quwain plant will supply green energy to run Utico's pumping station in Umm Al Quwain. The solar deployment will be within the Utico pump station premises.